Disposable e-cigarette Puff House, Banana Ice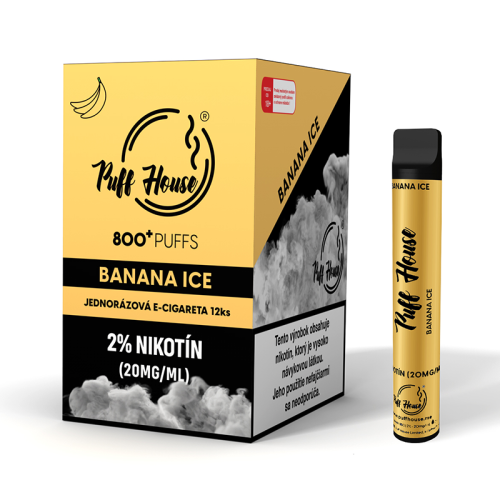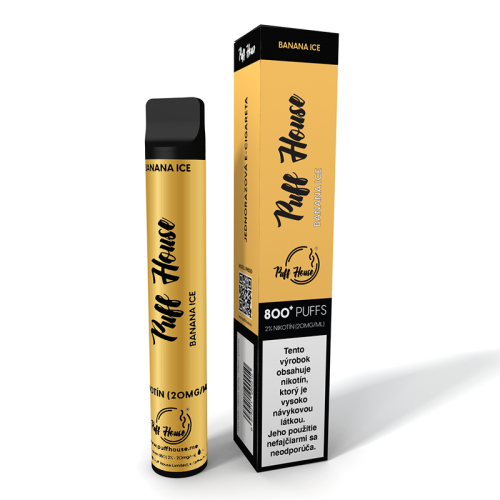 Disposable e-cigarette with banana ice flavor that you do not need to charge, fill or adjust in any way. The German-quality e-cigarette Puff House allows up to 800 puffs with a built-in 550mAh battery and 2ml pre-filled liquid, which corresponds to about 3 packs of regular cigarettes (60 pieces), provided that you puff about 10-15 times from a cigarette. Replace it with a new device as soon as the pre-filled fluid or built-in battery is empty.

Package contents: 1 Disposable e-cigarette with Banana Ice flavor More
Disposable e-cigarette with banana ice flavor is an ideal choice to start with vaping. You do not need to charge, refill or make any modifications to the e-cigarette. Just pull it over the mouthpiece, which activates the device and creates steam for inhalation. The device is designed for MTL (mouth to lungs) vaping, where you first inhale the steam into the mouth and then into the lungs, similar to a classic cigarette.
The German-quality e-cigarette Puff House allows up to 800 puffs with a built-in 550mAh battery and a 2ml pre-filled liquid, which corresponds to about 3 packs of regular cigarettes (60 pieces), provided that you draw about 10-15 times from the cigarette. Replace it with a new device as soon as the pre-filled fluid or built-in battery is depleted.
The e-cigarette is filled with nicotine salt fluid with a nicotine content of 20mg/ml, which corresponds to a nicotine content of 2%. Unlike regular nicotine, nicotine salt is absorbed faster in the body and thus better mimics smoking and reduces the desire for nicotine faster.
Package contents: 1 Disposable e-cigarette with Banana Ice flavor
---
Zvýraznené položky sú povinné.